Claire Halibur and her mother.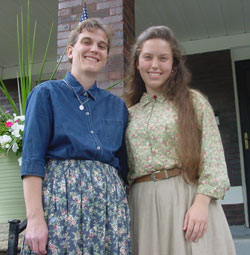 Teen offers new outlook for women
By JACQUELINE PINNPosted Thursday, September 1, 2005
JOLIET—
Dressed in a bright colored print blouse and a green skirt, the young woman looked like she had come out of an episode of "Little House on the Prairie." While she admitted her different style of dress often gets odd looks from passersby; she is determined to serve as an example of modesty for women of all ages.
In today's culture of teenage sexual exploration through dress and speech, Claire Halibur has found young women who are more interested in covering up rather than letting it all hang out. As a result, the 17-year-old Joliet native has created a modesty movement that offers resources for young women of all faiths.
Halibur and her mother Barbara sat down with the Catholic Explorer Aug. 26 to discuss the group and the issues that arise when young women follow the path of modesty in modern culture.
The idea to start a modesty movement came to Halibur in June of 2004 after the young woman had spoken at an international conference for young women in Wisconsin. "I gave a talk about how modesty and purity can work for young women in this day and age," she said.
After her speech, Halibur was approached by young women asking for ways to follow the path of modesty. "When I started thinking about it, I realized that there really weren't all that many resources concerning modesty, unless you know where to look for them," she said.
That's when Halibur decided to begin a movement, which would offer young women a place to find those resources and to connect with other girls their age. "I wanted to let them know that if they choose to begin a journey of modesty they will not be alone," said Halibur.
When the time came to name the new movement, Halibur looked to her faith for inspiration. "The Blessed Mother, for example, should serve as the perfect role model in terms of modesty. After all she is one of the most beautiful and modest women history has ever known," she said.
That is why Halibur calls her group the Rosa Mystica Modesty Movement. "Because one of the Blessed Mother's names is the Rose of Mystery," she said.
Clothing is only one of the avenues Halibur promotes when discussing the issue of modesty. "Modesty also concerns how you carry yourself, how you act and how you speak to other people," she said.
As an example, Halibur spoke about young women she has seen dressed in halter-tops and short skirts. "Those women may act confident, but all their trying to do is get someone to notice how they are dressed, so they can feel good about themselves," she said.
While she doesn't put down actresses like Paris Hilton and Nicole Richie for the way they dress, Halibur does suggest that young women take a good long look at their role models and their lifestyles. "They may seem happy, but a deeper look might reveal a young woman who is really uncomfortable with the way she looks," she said.
When discussing her own role models, Halibur said she looks to the Blessed Mother and the saints to guide her. "These are women who weren't afraid to see their bodies as temples and to protect themselves, because they knew they were made in God's image," she said.
In particular, Halibur looks at the life of St. Philomena, a young Greek woman who died rather than be forced to marry a Roman emperor. "She was a young woman who stuck to her guns and followed God's path for her, even though it meant her death," she said.
Undertaking a journey of modesty isn't just something for young women, according to Halibur, women of all ages can benefit from her movement. "I have had so many mothers and grandmothers come up to me asking for ideas not just their daughters and granddaughters, but for themselves as well," she said.
In addition, Halibur discusses modesty issues with young men. "It is their reactions to what women are wearing that promotes this culture of lust that we are dealing with," she said.
The dedicated young woman suggested that men compliment women on their modesty and encourage them to view their bodies as temples to God. "Women do listen to the reactions of the people around them. And I think with some positive reinforcement things will begin to change," she said.
While she did admit that her dress and position on the issue of modesty often draws negative reactions from onlookers, she has tried to rise above it. "Many people peg my family and I as Mormons then are surprised when we say we are Roman Catholic," she said. But more often than not, the family is bombarded with questions and requests. "So many people ask us where we get our clothes or what we mean by modesty," she said.
Even though her modesty movement has been growing across the country, Halibur doesn't really see herself as a role model. "All I'm trying to do is share the gifts that God has given to me," she said. In addition to offering copies of her speech on purity, Halibur also offers a book full of modesty resources and literature. "It's just my way of offering hope to the young women of the world," she said.
The young woman also has been working on creating a Web site for members of the movement to access. "I hope to have the same resources that are currently offered in the guide, along with testimonials and other information about modesty issues," she said.
When discussing the issue of modesty, Halibur suggested talking to girls early about the subject. "At a young age, girl's minds are formed by what they see in the world. So that by the time they get to be teenagers, they don't see anything wrong with the way they are dressed," she said.
But if enough young women take up the cause of modesty, Halibur said change could occur. "We could set the trends and make a new world in which young women could feel comfortable in their skin," she said.