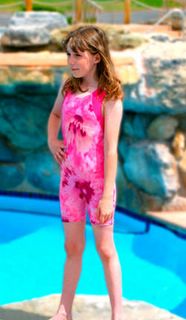 Surf's up for modest swimwear
By Heather Bowser Daily Universe Staff Reporter - 23 May 2005
As summer fast approaches, a time when swimsuit styles say, "less is more," one Springville woman took modesty matters into her own hands.

Jackie Rawlins, a stay-at-home mother of four, founded Utah's first mid-thigh swimwear company in order to foster the modesty she values. "There are so many women in today's society who feel that their bodies violate some water compliance code, so they banish all swimwear from their wardrobes," Rawlins said. "I knew there had to be an alternative."

With her daughters as models and her home office as a lab, Rawlins invented Ohana swimwear, an online swimsuit shop.

The word 'ohana' means family in Hawaiian and Rawlins says it helps her keep focused on her children.

"First and foremost, I am a stay-at-home mom," she said. "I wanted to remember exactly what's most important to me because with a business it's easy to get distracted."

Rawlins said she usually waits until her kids are sleeping to spend time designing and conducting her business affairs.

"One morning at about 4 a.m., I woke up and just couldn't stop thinking about a woman I saw one time at my daughter's swim lessons," she said. "The woman was wearing a wet suit with the neck and arms cut out of it."

Rawlins immediately sat up and started sketching a few designs of some modest swimsuits resembling the wet suit she saw earlier. Three months later she was a licensed business owner.

"I want women to feel confident when they wear one of our suits," she said. "In my opinion, the sexiest thing a woman can wear is confidence."

After three years in business, Rawlins' suits can be found in a wide variety of online locations. Ohana's 60-dollar suits list anywhere from conservative ldsfiles.com under the 'modest clothing' category to placed beside the string bikinis on swimsuits.com.

Other online modest clothing stores such as customchristiansewing.com and swimmodest.com make suits for about same price as Ohana, but most suits resemble early 1900s swim dresses.

"I refuse to miss out on the frolicking years with my children because I feel self-conscious in my swimsuit," said Jessica Johnson, an Ohana customer. "If I didn't get into the water, how would my daughter be affected?"

Rawlins' suits are cut just below the thigh so as to enhance the thinnest part of a woman's legs. She says the colors, seams and fitting are all designed to keep women from "hanging out in all the wrong places."

Although Ohana is an online store, Rawlins said she sells about 100 suits at Knee Shorts, a store that caters to LDS Utah.

"People come in from all over to get these things," said a Knee Shorts employee. "Some have shopped online, some just see them in the store and go nuts, but most are LDS women who just want a modest swimsuit."

Ohana sales have doubled each year for its three consecutive years; however, Rawlins said she hopes to make a profit by selling 2,100 suits by summer. Women from all 50 states, including Alaska, have purchased an Ohana suit.